Podcast App's Martín Siniawski on funding options for new apps and more
On the podcast: Spinning off a new product from secondary product market fit, the journey of getting into YC, and the give and take of raising venture capital.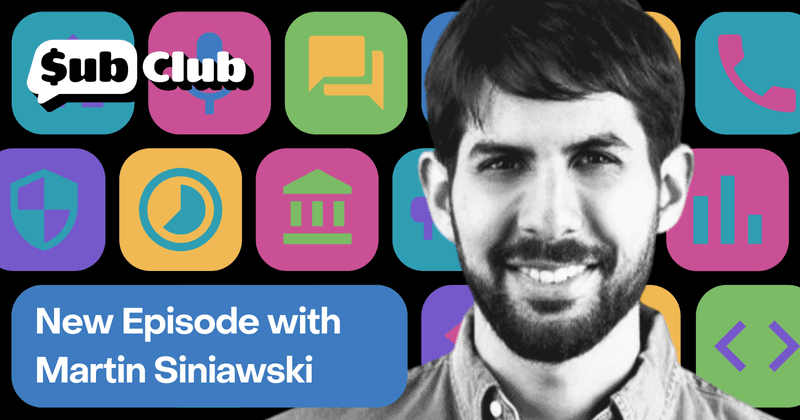 If at first you don't succeed… try, try again.
The first time Podcast App co-founder and CEO Martín Siniawski went to a Y Combinator funding interview, it didn't go well.
"We applied at the end of 2016 and had a rude awakening," Martín explains. "We got to the interview stage, but we got obliterated."
But this didn't stop Martín and his co-founder from trying again a few years later — and succeeding. "I'm a big Rocky Balboa fan, and I felt like it was the rematch. We were in a different mindset: We tend to be very chill people, very thoughtful, and we hear people out. Here we were, ready more for a fight."
But their journey didn't begin with Podcast App.
Streema and the path to Podcast App
In fact, prior to founding the fast-growing podcast player, Martín fully bootstrapped online radio streaming service Streema into one of the largest companies of its kind in the world. Combined, Podcast App and Streema now have a mindblowing total of over 100 million downloads.
So what made Martín and his business partner shift from radio streaming to podcast services? They saw the continuing trend of people moving away from traditional radio and towards on-demand audio. This made the leap from online radio with Streema to podcasts with Podcast App seem like a natural one.
After failing the first YC interview, Martín gave it another shot and The Podcast App was accepted into YC in 2018. In the initial interview, he felt they hadn't had enough exposure pitching investors because they had been in their own bubble and ecosystem, bootstrapping for over a decade.  With more experience and two more years of traction for Podcast App, that second interview went much better. They secured a spot in YC and landed seed funding soon after. 
Bootstrapping vs. Venture Capital
It wasn't an easy road. YC was naturally concerned about how big Podcast App could grow against giants like Google and Spotify, not to mention Apple, already a veteran of almost 20 years. When it comes to the decision between going bootstrapped or venture-backed, Martín believes the answer goes beyond market size. It depends on what you're ready to sign up for and what kind of entrepreneurial adventure you want to take. The more people who are involved, the more responsibility and accountability you face — and the higher the stakes. You should also base the decision on how much you want to commit versus retain your freedom and options.
And while venture capital can definitely accelerate your business, it carries a trade-off. Only founders can decide what that trade-off should be.
On the podcast…
Martín talks about how much he learned from other subscription app developers on the podcast who are deep into paid acquisition and app store optimization (ASO). He also speaks to spinning off a new product from secondary product-market fit, the journey of getting into YC, and the give and take of raising venture capital.
Watch the episode on YouTube or listen wherever you get your podcasts.
In-App Subscriptions Made Easy
See why thousands of the world's tops apps use RevenueCat to power in-app purchases, analyze subscription data, and grow revenue on iOS, Android, and the web.